Facebook Milestones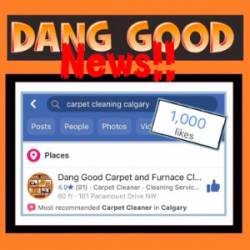 We are extremely proud of our latest Facebook Milestones. We first noticed back in June 2018, that we came up on Facebook as "Most Recommended Carpet Cleaner in Calgary." Today October 7th 2018 we are proud to continue with the same status. And with tomorrow being Thanksgiving in Canada, it is something we are very thankful for. This week we also reached 1000 Likes on our Dang Good Facebook Page too. We are grateful to all those that believe in us and our Carpet And Furnace Cleaning Services. We continue to be popular with locals in Calgary, Chestermere and Airdrie, Alberta.
For more information on our services, check out our Carpet Cleaning Page
Share this article...