Why Furnace Filter Replacement is Important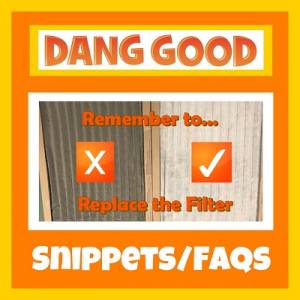 When did you last Replace your Furnace Filter?
This personal anecdote should convince you that changing your Furnace Filter is important.
When I got up this morning, I noticed that the house was considerably colder than normal. On checking the thermostat it was set where I always have it in the cooler months – around 22 centigrade but the home was not reaching that temperature. In the next couple of hours I noticed that intermittently the furnace and fan would kick in and the temperature in the house was subsequently going up and down but still not reaching 22 centigrade.
Booking a Furnace Repair Company
My next job was to call out Official Plumbing and Heating in Calgary to investigate the issue. They are one of the companies we recommend for furnace issues as we at Dang Good only do the Furnace and Duct Cleaning not any repairs. They came out the same day.
The Diagnosis of our Intermittent Furnace Issue
Embarrassingly, it was a simple issue and somewhat shameful given that we are in the business of cleaning Furnace and Air Ducts!
The problem was a A Dirty Filter that should have been replaced months ago! Yes that brown grimy filter in the picture above is ours! It was so clogged that air wasn't getting through properly and the furnace system was overheating and cutting out. At best this would have increased our energy costs because the furnace would not be working very efficiently. At worst, it was a potential fire hazard for sure!
We were lucky that we didn't need the heat sensor replaced from excess of use. Fortunately we just needed the filter changed but of course we had to pay the technician a call out charge. We paid a costly price for neglecting such simple maintenance on our HVAC system, when a regular filter change would have been a much cheaper way to go and rather ironic given that we are:
Dang Good Carpet and Furnace Cleaning.
There is no excuse. Dang Good keeps a constant stock of filters because Dang Good provides a standard Free Furnace Filter Replacement with each furnace and duct cleaning service. We have been so busy looking after our customer's homes but we neglected our own home and that is not good.
Furnace Filters help protect the blower fan from dust and dirt. It also helps stabilize the quality of the indoor air.
Have you booked your Furnace and Duct Cleaning yet? We will replace a Standard Filter for free when you book your next cleaning with us. We service Calgary, Airdrie, Balzac, Crossfield and Chestermere.
Call Now 403-984-3680