Airdrie Trade Shows and Home Shows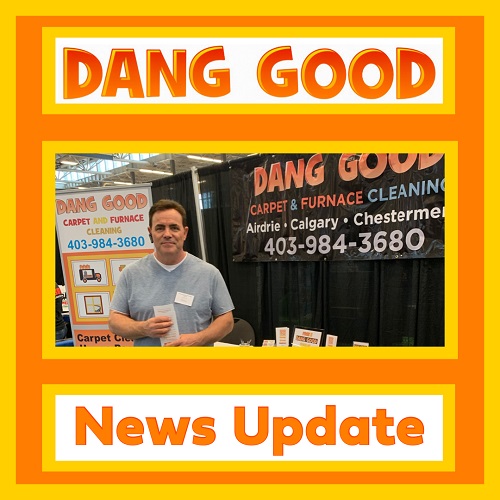 The main Airdrie Trade Show 2021. 
Sadly due to the pandemic, we wanted to start by letting you know that this major event called the Airdrie Home & Life Style Show has once again been cancelled for April 2021 as it was in 2020.
However, the Airdrie Chamber of Commerce is still optimistic and looking at ways to transfer to a Fall 2021 show, assuming that there is a smooth transition to Alberta's Step 4 in easing restrictions during COVID-19.
We sure hope Step 4 can be realized sooner than expected, as that would mean hospitalizations are on the decline. We cannot think of better news for those on the front-line.
Unfortunately, most large events in 2020 and to date in 2021 have been cancelled or delayed due to the pandemic.
It is hard to even know what trade shows will look like in the future, but we take heart knowing that the Airdrie Chamber of Commerce has not ruled out having one, once restrictions have been lifted. It would be a welcome diversion for so many and is a sorely missed event in Airdrie.
Yet health and safety must prevail. We hope the Airdrie Home Show will safely be able to return in the Fall of 2021 and we will let you know once we hear more.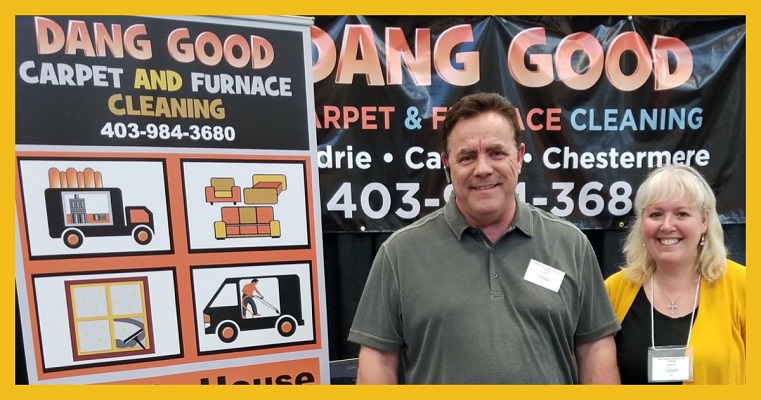 About the Airdrie Home & Life Style Show. 
We were exhibitors of this Airdrie Trade Show in 2018 and 2019 and we were so looking forward to 2020 and 2021. As I have mentioned in other blogs, whilst Airdrie is growing, it still has a great small town atmosphere and the Airdrie Home Show is no exception. There is always such a buzz of fun and laughter and community.
In particular we find it great to connect with our customers. As people do the rounds of booths it is great to hear: "oh look it's Dang Good. We had you guys in last year to do our carpet cleaning or furnace cleaning. We need to book you again" Putting names to faces and giving customers the opportunity to meet and chat with us is what makes the show so special.
Of course it is also a way to bring the various home and lifestyle businesses under one roof. It is an opportunity not just to chat with customers but to connect with similar small businesses in Airdrie and even with our competitors. We get to connect with non-profit community groups too. As a growing small business we cannot underestimate the level of brand recognition that this Airdrie Trade Show exposes us to.
For consumers the low cost admission fee (it was to be $5 in April 2020), is truly value for money. In addition to the booths they have various prizes and giveaways and entertainment. The show is held at Genesis Place in Airdrie and is open over a weekend on both Saturday and Sunday.
And right now it looks like the Airdrie Chamber of Commerce has graciously still got us listed as a Show Sponsor. Whenever the show gets back on the road we are providing a Door Prize. We are still on the exhibitor list too.
We so look forward to this being back again when fears surrounding the Coronavirus are over
Other Airdrie Trade Shows
It would be remiss of us not to mention another Airdrie Trade Show: Airdrie Mommylicious. The last time we were a vendor at this event was on Sunday September 30th 2018. Sadly this year's event was postponed and will be until further notice.
What is Airdrie Mommylicious?
At the time of writing, Airdrie Mommylicious was a free event. It was founded in 2010. Mommylicious Events are markets which exhibit local businesses who sell products and services geared towards families. When we attended in September 2018, there was for sure a young family atmosphere. The events include:
Shopping
Face Painting
Mini Photo Sessions
Mascots, Craft Area
A Kids Fun Zone
Door Prizes.
However, Airdrie is not the only Mommylicious event. There is usually one in Calgary, as well as several more Mommylicious markets across the Province of Alberta.
Dang Good Door Prizes 
Whenever we attend an Airdrie Trade Show event, as an exhibitor, we invariably offer a door prize. Normally it will be a Carpet Cleaning Package. The winner is provided with a unique Dang Good certificate. For those who are not so lucky in winning a door prize, please feel free to check out our Deals Page for some great prices on Carpet Cleaning and Furnace Cleaning. With our prices and quality of service you will feel like you've won a prize in any case.
Please feel free to share our Dang Good Blog Post about the Airdrie Trade Shows
#AirdrieTradeShow #AirdrieHomeLifestyleShow #Mommylicious