Airdrie Trade Shows and Home Shows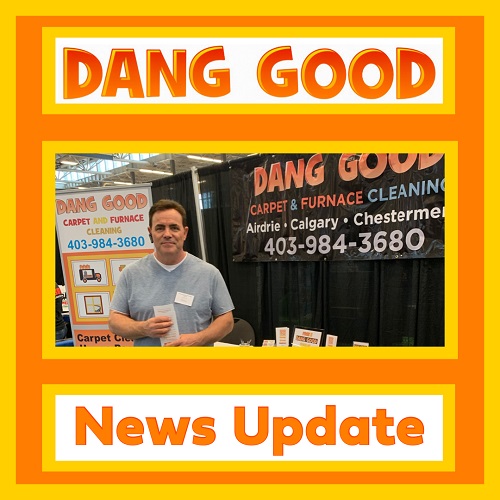 Airdrie Chamber of Commerce Live at the 2022 Airdrie Home & Lifestyle Show. 
The Main Airdrie Trade Show 2022. 
We were delighted to hear that one of Airdrie's major events: The Airdrie Home & Lifestyle Show was back for 2022. Held on Saturday, April 23rd, 2022 and Sunday, 24th, 2022 at Genesis Place, Airdrie AB.
Dang Good Carpet and Furnace Cleaning was excited to be an exhibitor at the show. 
The Airdrie Home and Lifestyle is the perfect place to connect with the community. Amazingly the admission fee in 2022 was still only $5.00. That entitled you to one draw ballot for the door prize. One of those door prizes was a Dang Good Carpet Cleaning Gift Certificate. Dang Good was also the exhibitor Bingo Card Sponsor. The Bingo Card gives you the chance to win a prize. As you go around the stalls check to see if the exhibitor is on the Bingo Card and have them mark your card. Once your card is complete hand it in for a chance at a raffle prize. 
Sadly due to the pandemic, the Airdrie Chamber of Commerce was forced to cancel this significant event in April 2020 and 2021. We cannot think of anyone who has not suffered in some way due to the coronavirus. Unfortunately, many events in Alberta have befallen the same fate.
Mark Norman on Video with Lindsey Coyle at one of the Airdrie Home & Lifestyle Shows.
All about the Airdrie Home & Lifestyle Show. 
We have been exhibitors of this Airdrie Trade Show since 2017. 2020 and 2021 are the exception, of course.
As mentioned in other blogs, while Airdrie is growing, it still has a great small-town atmosphere, and the Airdrie Home Show is no exception. There is always such a buzz of fun and laughter, and community.
In particular, we find it a great way to connect with our Airdrie customers and many from Calgary too. As people do the rounds of booths, it is great to hear: "Oh look, it's Dang Good. We had you guys in last year to do our carpet cleaning or furnace cleaning. We need to book you again" Putting names to faces and giving customers the opportunity to meet and chat with us is what makes the show so special.
Of course, it is also a way to bring the various home and lifestyle businesses under one roof. It is an opportunity to chat with customers and connect with similar small businesses in Airdrie and even our competitors. We get to connect with non-profit community groups too. As a growing small business, we cannot underestimate the level of brand recognition that this Airdrie Trade Show exposes us to.
For consumers, the low-cost admission fee is truly value for money. In addition to the booths, there are various prizes and giveaways and entertainment.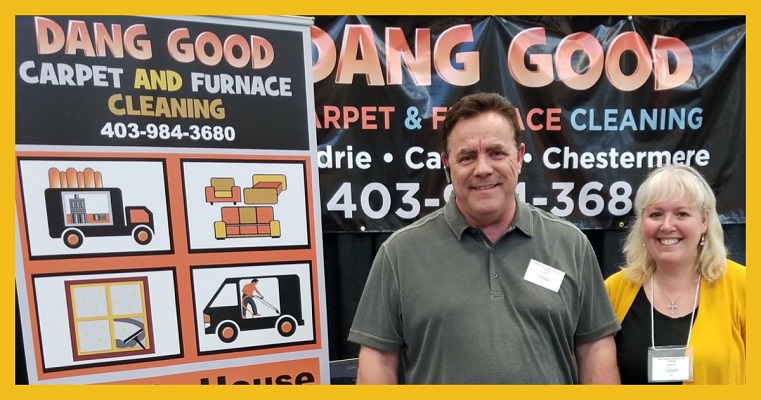 Other Airdrie Trade Shows
It would be remiss of us not to mention another Airdrie Trade Show: Airdrie Mommylicious. The last time we were a vendor at this event was on Sunday, September 30th, 2018. Sadly the 2020 event was postponed and continues to be until further notice. However, we hope they can resurrect the event soon.
What is Airdrie Mommylicious?
At the time of writing, Airdrie Mommylicious was a free event. It was founded in 2010. Mommylicious Events are markets that exhibit local businesses that sell products and services geared towards families. When we attended in September 2018, there was a friendly family atmosphere. The event included:
Shopping
Face Painting
Mini Photo Sessions
Mascots, Craft Area
A Kids Fun Zone
Door Prizes.
However, Airdrie is not the only Mommylicious event. There is usually one in Calgary, and there are several more Mommylicious market events across the Province of Alberta.
Dang Good Door Prizes 
We invariably offer a door prize whenever we exhibit at an Airdrie Trade Show event. Usually, it will be a Carpet Cleaning Package. The winner receives a unique Dang Good certificate.
For those who are not so lucky in winning a door prize, please feel free to check out our Deals Page for some great prices on Carpet Cleaning and Furnace Cleaning and Window Cleaning. With our prices and quality of service, you will feel like you've won a prize in any case.
Feel free to Share our Dang Good Blog Post


#AirdrieTradeShow #AirdrieHomeLifestyleShow #Mommylicious