Airdrie Trade Show
The Airdrie Trade Show 2023.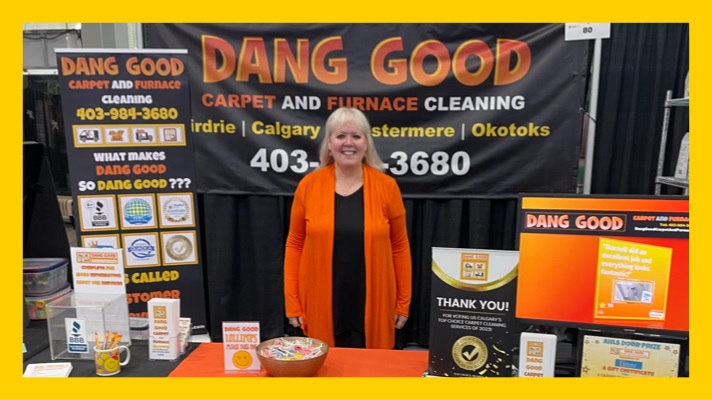 About the Airdrie Home & Lifestyle Show. 
The Airdrie Chamber of Commerce hosts the Airdrie Trade Show. Nearly 200 vendors, local to Airdrie and surrounding areas, come together under one roof to exhibit their services and products and for Airdronians to learn about the latest trends in home decor, renovation, and lifestyle options. The Airdrie COC helps promote economic growth and helps showcase the diversity and innovation of businesses. The show is an enjoyable, affordable way to be entertained for a day and prepare yourself and your home for the Spring and Summer Seasons. There will be plenty of opportunities to shop, eat, be educated, entertained, or soak in the aromas, sights and sounds.
As mentioned in other blogs, while Airdrie is growing, it still has a tremendous family-focused small-town atmosphere, and the Airdrie Home Show is no exception. There is always such a buzz of fun and laughter, and community. For consumers, the low-cost admission fee is truly value for money. In addition to the booths, there are numerous prizes, giveaways, interactive workshops, demonstrations and entertainment with specific stage events.
What is the Cost?  
Amazingly the 2023 admission fee was still only $5.00 per person and FREE for ages 12 and under. The admission entitled you to one draw ballot for the door prize, subject to completion of a short survey. Parking at Genesis Place was free too. That is an incredibly good deal. In addition, the first 250 attendees each day received a free goodie bag. Plus, there was an opportunity to win 'show bucks' in the Money Tunnel.
One of the door prizes was a Dang Good Carpet Cleaning Gift Certificate valued at $650.
Dang Good was also the Bingo Card Sponsor again. The Bingo Card is a chance for you to win a cash prize. As you go around the stalls, you can check if the exhibitor is on the Bingo Card and have them mark your card. Once your card is complete, you hand it in for a chance to win a raffle prize.
Dang Good's involvement in the Airdrie Trade Show
We have been exhibitors at the Airdrie Trade Show since 2017. Of course, 2020 and 2021 were the exception due to the pandemic.
From the moment the show starts you can feel the excitement in the air and in no time the place is bustling with attendees. With colourful banners, well thought out booths and an organized floor plan, it's easy for visitors to navigate the venue. 
As well as being informative, we like to make it fun for all who stop by. In 2023 we introduced a Plinko Prize Drop Game for amusement, where you drop a puck at the top to see if you win a prize at the bottom.
While the prizes were primarily for the children, we had some adults try to and then pick a toy for one of their younger loved ones. 
We had several little giveaways to select from – nothing fancy – but it was fascinating to watch what was picked. It really showed the diversity of tastes out there. 
Connections
We find the show a great way to connect with our Airdrie customers and many from Calgary too. As people do the rounds of booths, it is great to hear: "Oh look, it's Dang Good. Last year, we had you guys do our carpet or furnace cleaning. We need to book you again." Of course, it's not all we do. Check out our dedicated Airdrie Page for a list of all our services. 
It is a hub of networking and collaboration. Putting names to faces and allowing customers to meet and chat with us makes the show so special. It is also a way to bring a plethora of home and lifestyle businesses together in one location. We love chatting with customers and connecting with similar small businesses in Airdrie and even our competitors.
We get to connect with non-profit community groups, plus make valuable connections and partnerships. As a growing small business, we cannot underestimate the level of brand recognition that this Airdrie Trade Show exposes us to.
We meet so many interesting people. One year, our booth was next to a local MP for Airdrie. And he has since become a regular customer of ours. Face-to-face interactions have allowed us to build stronger relationships with new and existing customers.
Airdrie Chamber of Commerce Live at the 2022 Airdrie Trade Show.
Mark Norman with Lindsey Coyle at the 2019 Airdrie Trade Show.
Join us at the 2024 Show. 
How do we know we will get a spot in 2024? Well, we were the winner of the 2023 Social Sharing Contest, and our prize was 50% off the price of our booth in 2024. So next year, we hope you will visit our booth, get your Bingo Card stamped and pick up a leaflet on our cleaning services. We are happy to answer any questions you have or call us before or after the event for more information. 
At the show, you may win our fantastic door prize, as mentioned above, but if you are not so lucky, we have some great prices on Carpet Cleaning, Furnace Cleaning, Tile and Grout Cleaning or Window Cleaning. With our affordable prices and superior quality of work, you'll feel like you have won a prize.
Feel free to Share our Dang Good Blog Post.


#AirdrieTradeShow #AirdrieHomeLifestyleShow #AirdrieHomeShow #TradeShow #HomeShow #HomeAndGarden #AirdrieEvents #Market