Best Of Airdrie Award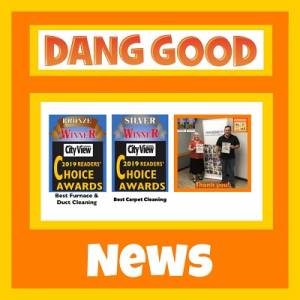 Best of Airdrie Reader's Choice Awards.
Thank you once again to the Readers of Airdrie City View who voted for Dang Good Carpet and Furnace Cleaning in the 11th Annual – Best of Airdrie – City View Reader's Choice Awards. We won:
We sincerely appreciate the Vote of Confidence. As a consequence, we are extremely grateful. It helps our business enormously to be able to refer to ourselves as Award Winning. Furthermore, we improved on last year by going up to Silver for Best Carpet Cleaning Company.
Each year, Readers of Airdrie City View are able to recognize and vote for the business they love by completing a survey. We are honored and humbled that Airdrie Residents have recognized us in this way.
As per last year, we once again published a "Thank you" in the Special Pullout Section of the Airdrie City View Magazine on Page 51. Although this year we went a little bigger in honor of our Silver Award Achievement. You can find the insert in the Airdrie City view Publication dated Thursday September 12th 2019.
We also shared a "Thank you" on our Dang Good Facebook Page.
#AirdrieCityView #BestOfAirdrie