The Best of Airdrie Awards
Winning the Best of Airdrie Award. 
We have won the Best Of Airdrie Award five times now.
In 2018 – the 10th Annual Best of Airdrie Reader's Choice Awards – we won Bronze for Carpet and Furnace Cleaning.
In 2019 we won Silver for Carpet Cleaning and Bronze for Furnace Cleaning. 
In 2020 we returned to Bronze for Carpet Cleaning and Furnace Cleaning.
In 2021, we won Bronze for Carpet Cleaning and now in…
2022 we won Silver for Furnace Cleaning and Bronze for Carpet Cleaning  
We sincerely appreciate the Vote of Confidence. It helps our business enormously when we can refer to ourselves as Award Winning in Airdrie.
Each year in July and August, Readers of Airdrie City View can recognize and vote for the businesses, people, places and events they love by completing a survey. We are honoured and humbled that Airdrie Residents have acknowledged us in this way.
Awards are announced each year in September, and we are humbled to have won a place again this year.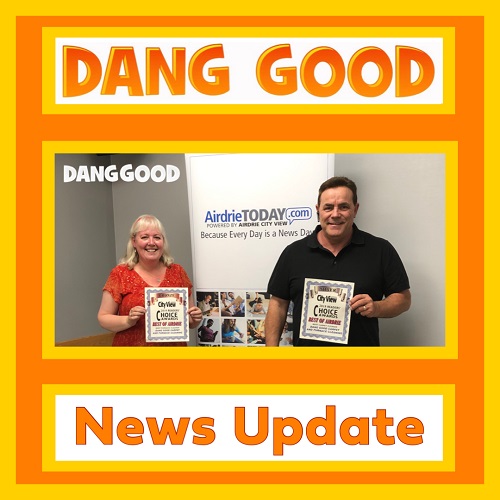 Best of Airdrie Award Ceremony
Unfortunately, there was no award event in 2020 and 2021 due to the COVID-19 Pandemic. This was in stark contrast to the evening of September 12th, 2019, when we attended a Wine and Cheese Ceremony at the Airdrie Town and Country Centre.
We had photographs taken of us receiving these awards. It was great to get together in 2019 with other small business winners and peers and the Airdrie City View staff. Sadly, many missed out in 2020 and 2021 with the required social distancing.
A Published Thank You for our Best of Airdrie Award.
In 2021, AirdrieToday.com published a "Thank You" to Airdrieonians in the September 16th, 2021 pullout section. Our "Thank You" can be seen on page 41.
City of Airdrie Customers who voted us Best of Airdrie
We love doing business in Airdrie. Airdrie has such a small-town feeling, yet it is a thriving community with a fast-growing population. According to Great West Newspapers, it has a population of 65000 and is growing at 7% every year. Airdrieonians have a unique spirit that is hard to find elsewhere. They are great at passing on word of our business, essentially doing our marketing for us. While we must confess that our company is not actually in Airdrie, we are so very close; we almost feel like Airdrieonians. Our Head Office is in the community of Panorama Hills in the North West of Calgary.
With that said, this makes these awards so much more valuable. Airdrie customers are a huge and significant part of our business. It is a neighbourhood made up of many young families, an important demographic for Dang Good Carpet and Furnace Cleaning.
Airdrie City View
A shout-out must also go to Airdrie City View, an Airdrie newspaper published in print and online weekly. It highlights a variety of stories and events about the local community. It is a free-distribution paper, delivered to all the households in Airdrie. It was founded in 2002 by Cameron Christianson. See the latest Airdrie City View publication 
Other Airdrie Awards
When we think of the Best of Airdrie, we tend to default the the Airdrie CityView Readers Choice Award, but two others require a mention.
CommunityVotes Airdrie – Since 2014 CommunityVotes has set the stage for Canadian cities to vote their favourite businesses and organizations. We are delighted to have been nominated in three categories in Airdrie in 2022.
Three Best Rated® Airdrie – We are delighted to hear that we were recognized as one in the top three for carpet cleaning in Airdrie. At least 4.5 Million customers rely on a Three Best Rated® to help them find reputable, reliable businesses.
Please feel free to share our Dang Good Blog Post.


#AirdrieCityView #BestOfAirdrie #BestofAirdrieAward #AirdrieAwardWinner