Best Of Airdrie Award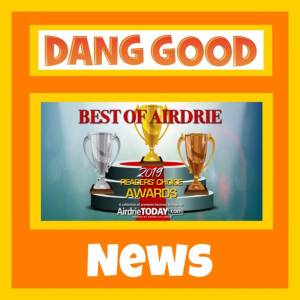 Best of Airdrie Reader's Choice Awards
Thank you once again to the Readers of Airdrie City View Publication, who voted for Dang Good Carpet and Furnace Cleaning in the 2019, 11th Annual Airdrie City View's Best of Airdrie Reader's Choice Awards. We won:
Winning the Best of Airdrie Award in 2019
This is our second time winning this award. In 2018, we previously won Bronze for Carpet Cleaning and Furnace Cleaning in the 10th Annual Best of Airdrie Reader's Choice Awards.
We sincerely appreciate the Vote of Confidence. It helps our business enormously to be able to refer to ourselves as Award Winning. Furthermore, we improved on last year by going up to Silver for the Best Carpet Cleaning Company in Airdrie, Alberta.
Each year in July and August, Readers of Airdrie City View can recognize and vote for the businesses, people, places and events they love by completing a survey. We are honored and humbled that Airdrie Residents have recognized us in this way.
Awards are announced each year in September, although we had heard by 21st August 2019 that we had won!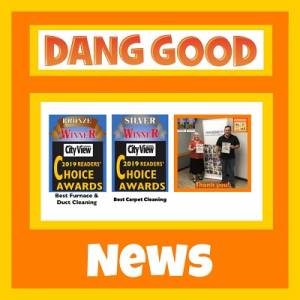 Best of Airdrie Award Ceremony
On the evening of 12th September 2019, we attended a Wine and Cheese Ceremony at the Airdrie Town and Country Centre. We had photographs taken showing us receiving these awards. It was great to meet up with other small business winners and peers as well as the Airdrie City View staff.
A published Thank You for our Best of Airdrie Award
As per last year, we once again published a "Thank you" in the Special Pullout Section of the Airdrie City View Magazine on Page 51. Although this year we went a little bigger in honor of our Silver Best of Award Achievement.
You can find the insert in the Airdrie City View Publication dated Thursday September 12th, 2019. We were also featured in the AirdrieToday.com
We also shared a "Thank you" on our Dang Good Facebook Page.
City of Airdrie Customers who voted us Best of Airdrie
We just love doing business in Airdrie. Airdrie has such a small town feeling yet it is a thriving community with a fast-growing population. According to Great West Newspapers,  it has a population of 65000 and is growing at a rate of 7% every year. Airdrie-onians have a unique spirit that is hard to find elsewhere. They are great at passing on word of our business, essentially doing our marketing for us. Whilst we must confess that our business is not actually in Airdrie, we are so very close, we almost feel Airdrie-onians. Our Head Office is in the community of Panorama Hills in the North West of Calgary.
With that said this makes these awards that much more amazing. Airdrie customers are a huge and significant part of our business. Airdrie is a neighborhood of young families. Young households are such an important demographic for Dang Good Carpet and Furnace Cleaning.
Airdrie City View
A shout out must also go to Airdrie City View, which is an Airdrie newspaper published in print and online weekly. It portrays a variety of stories and events about the local community. It is a free-distribution paper, delivered to all the households in Airdrie. It was founded in 2002 by Cameron Christianson. The latest publication can be found online at https://www.greatwest.ca/publications/airdrie-city-view/
Please feel free to share our Dang Good Blog Post about the Best of Airdrie City View Reader's Award
#AirdrieCityView #BestOfAirdrie #BestofAirdrieAward #AirdrieAwardWinner