Dang Good Laundry Room Cleaning
Laundry Room Cleaning Advice
Give your Laundry Room some attention and keep that hamper manageable. 
The Laundry Room gets used a lot but often it is one of the last rooms we think about cleaning or organizing. Over time the laundry can become cluttered. If the room is attached to the garage, it often becomes a dumping ground for anything and everything, doubling as a long-term storage space. 
Furthermore, it may be where you'll find the litter box if cats share the home. Instead of dreading that fight through piles of stuff to get to the washer and dryer, make today the day you take charge! Let's embark on a laundry room cleaning and decluttering.
Prep for a Laundry Room Cleaning. 
What you will need:
Microfiber dusting cloths
Warm water and cleaning solution (homemade or commercial)
Swiffer Duster (with Long handle)
Broom
Mop
Vacuum
Paper Towel
Clean White Cloths
Declutter before the Laundry Room Cleaning. 
If it is unavoidable for the laundry room to double as the storage room, take the time to organize storage items into hard shell plastic totes. These can be found affordably at stores like Canadian Tire. The advantage of using totes is that they stack well, and if there is a washer leak or flood, they will help protect your belongings. 
However, don't just transfer everything into totes without much thought. Instead go through the storage and toss out the junk, such as broken Christmas ornaments and other items you are not likely to use again.
If you've been holding on to years of your kid's artwork or schoolwork consider taking photos of it instead and make a digital album. 
Donate clothing that is in good shape. If it's something special like your grandma's sweater or a wedding dress, consider having a seamstress convert the item to something useable, like a throw pillow, or place it in a display case.
Does part of your laundry room serve as the feline washroom? If your cats don't mind covered litter boxes or mechanical ones that automatically sweep the litter, consider these options. Both help keep smells at bay. However, they are not replacements for frequent litter box cleanings. 
Unfortunately, some cats are temperamental, so these items are best introduced when they are kittens.
Keeping a handheld vacuum for sucking up rogue cat litter that cats shake off their paws may be wise too  Doing some clean-up as you go will make the laundry room cleaning less daunting.
You can also get a litter locker similar to a diaper genie but designated only for cat litter. It locks in the waste and smell, and you can transfer the bag to the outdoor garbage weekly. Get a litter scatter mat beneath the litter box to prevent litter from tracking across the room.
Be intentional about what you house in the laundry room and give everything a home so there is space to actually work on the laundry.  
Now that you have addressed the clutter and the cats are investigating their new toilets, it's time to clean.
A Deep Laundry Room Cleaning.
After emptying everything out, start from the top. 
Dust and wipe, cleaning from the ceiling down— items such as lights, light switches, surfaces, walls, shelves and baseboards.
Washing Machine – Wipe the washing machine down. Make sure to clean around the interior of the lid, including all the switches and the knobs. Wipe down the inside of the machine. Wipe (but do not dislodge) the seals. Clean the inner workings of the washing machine and remove mould or scum buildup by adding a couple of cups of white vinegar and doing an empty load. Done regularly, this will get rid of stale smells.
Tumble Dryer – Clothes Dryer – Use wipes to clean the dryer drum, then dry with some paper towel or a cloth. Next, soak the lint trap, rinse and dry it. You ARE cleaning the lint trap between drying cycles, right? If you don't, you are creating a fire hazard. It's also a great idea to book a dryer vent cleaning. It's an easy add-on service to your furnace and duct cleaning, and quite frankly, it can save your life.
Descale your Iron – If your iron is spitting minerals bits onto your clothing or is not gliding smoothly, it is time to descale your iron.
Clean your ironing board – Remove the protective cover from your ironing board and put it in the wash bin.
Wash the garbage can and sink. – If your laundry room has these items, give both a good wash. A little vinegar in hot water goes a long way in freshening up both items.
Wash down the doors. Don't overlook the exits! Sometimes there are as many as three: from the garage plus to the hall and the pantry. Wipe them down, including the top where dust settles.
Clean the Floor. Use the vacuum's small hose to get between and under the appliances. Or use a long-handled duster. Then vacuum or sweep and mop the floor.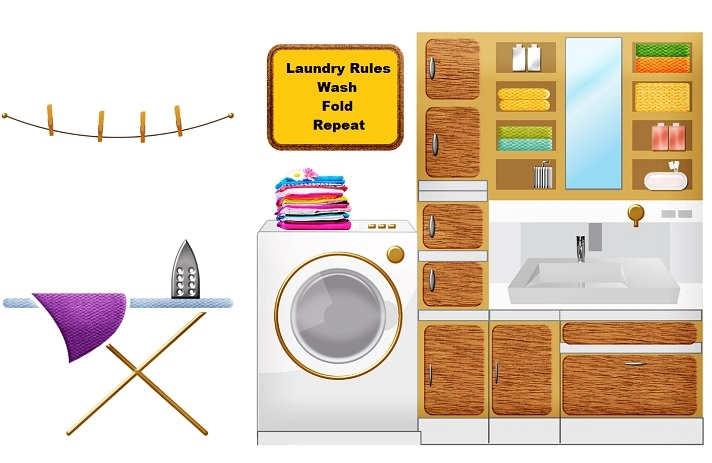 Time to Organize the Laundry Room. 
Instead of just stacking things back in the laundry room, sort through the piles, you have emptied out. What needs to stay, what needs to go? Then, put them back in a purposeful way. Have a place for everything.
If needed, invest in storage, shelves and hooks or plastic drawer storage towers to house not only laundry supplies but hats and gloves, spare lightbulbs or batteries.
If you have items that need to be stretched or drip-dried, purchase a drying rack.
Put in an ironing board hanger which can be stored against walls and doors.
Organize and dedicate a space for your laundry supplies and check your stock of them, so you never run out  
Get different coloured hampers to quickly sort the dark, light, and delicate laundry.
Consider a drop-down shelf for a folding station or simply designate a place to fold clothes as they come out of the dryer. You can use the top surfaces of your appliances if you have the right kind. Find space to place those folded clothes and put up some hooks for hangers. If you fold or hang clothes while they are warm, you will eliminate ninety percent of the ironing needed.
But don't just leave folded, laundered clothes in the laundry room. It is not a second wardrobe! They need to be put away as soon as you've finished your laundry chores.
To get more inspired see the Laundry Declutter and Organize Video by Cleaning the Chaos. 
Tackle the Laundry Load. 
Hang up a stain removal guide for a quick reference when dealing with gum, wine or grass stains.
Now that you have completed the cleaning and organizing, the last step is to keep up with the laundry. This is a dreaded chore for many people. 
Yet like any other household task, the best way to get it done is just to do it. 
Make doing laundry part of your regular cleaning routine, or tackle a couple of loads on certain days (hello adulting!). Alternatively, have a set schedule for doing the laundry. That way, you dedicate time to it and done regularly, the laundry is manageable. Don't wait until it piles up.  
Keep your bedroom and closet tidy, too, so you aren't tempted just to dump your clean clothes on the floor or bed. 
Clean, organized spaces tend to stay that way, so do the work now to make the rest of your life easier.
Laundry and Other Cleaning Snippets. 
Feel free to Share our Dang Good Blog Post


#LaundryRoomCleaning #LaundryRoomCleaningHacks #LaundryRoomCleaningTips #LaundryRoomOrganization #LaundryRoomDeClutter #CleaningHacks #Cleaning #DeClutter