Mattress Cleaning Hacks
Mattress Cleaning Hacks for a Good Night's Sleep.
How to clean your mattress the natural way.
The importance of a good mattress is often overlooked, and that is a shame. Your mattress should be considered one of your most prized possessions because the right one helps provide valuable sleep.
Sleep deprivation may adversely affect your life in several ways. Conversely, good sleep may improve the quality of your life. Sleep is essential for Health according to the World Sleep Society which has the phrase as their slogan for 2023 World Sleep Day. So today, let's take a better look at some mattress cleaning hacks and maintenance. Your well-being may depend on it!
Why Cleaning your Mattress is Important.  
We use mattresses almost every night. Even with good intentions, they inevitably get dirty. But is that dirt on the fabric's surface or more deep-seated? And just how ingrained is it? Is it something that can easily be tackled with some mattress cleaning hacks, or is professional mattress cleaning required?
Even when the appearance of your mattress is not so bad, it can still house germs, allergens, dust mites, dead skin, and other unsavoury particles that are not so great for health or sleep quality.
What about those yellowing stains (plus their often-consequential odour) when they are caused by sweat? Sweating on some level is inevitable, but it can be a haven for bacteria growth.
You want to get the most out of your mattress for as long as you can. We are not advocating sleeping on uncomfortable or unhygienic mattresses but that you take the steps necessary to maintain your mattress for its natural lifespan. Replacing a mattress can get expensive. Let us provide you with some guidance on caring for your mattress.
Caution with Mattress Cleaning Hacks. 
In attempting any cleaning hack, you need to make sure you do the following:
Check the manufacturer's instructions and warranty so you don't void any insurance claims or warranty.
Clean in a well-ventilated room, avoiding anything too harsh or highly scented.
Test a small area to see how it may react.
You need to be aware that while some stains may fade, others they may get bigger after treatment. This is the risk you take with do-it-yourself remedies.
This blog is about mattress cleaning hacks for surface stains, soiling and odours. Unfortunately, your mattress may not look like new when all is said and done, but you will know that it is considerably cleaner than before. If you want a deeper clean or your mattress is extremely soiled, we suggest you seek Professional Mattress Cleaning.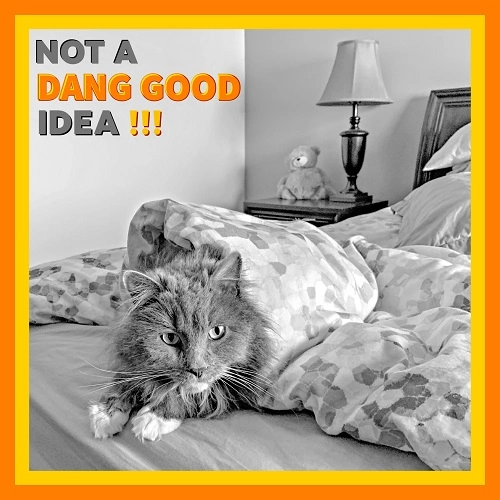 Mattress Maintenance – the Basics. 
Think twice about pets on the bed – Okay, pet lovers, this is a hard one but keep your pets off the bed if you can. We know! Those sleepy cuddles are awesome, but pets (and their dander, fur and slobbery kisses) can be hard on your mattresses. If you want them in your room, give them their own bed.
Manufacturers Directions – First, check the recommendations that come from the manufacturer and follow them.
Vacuuming – Regular Vacuuming is a no-brainer and will help to remove loose dirt, hair, pet dander and food particles.
Hepa Filters – Better still, use a vacuum with a HEPA filter.
Wash those Sheets – Regularly machine washing the bedding is wise but don't overlook the comforter, bed skirt and pillows.
Get well-fitting sheets – Using fitted sheets is advisable; otherwise, your tossing and turning at night will land you right on the mattress instead.
Spot-treat as it happens – Tackle certain stain spills when they occur, especially drinks – coffee or juice. Mop up the liquid straight away too.  Baking soda is great for food and drink spills. Salt is great for soaking up red wine.
Airing the mattress – Open a window. This helps air out the mattress and the room while reducing the VOC load. You may have heard it said that sunshine is the best disinfectant.
Use a mattress pad – a pad or protector or even a waterproof one gives your mattress an extra layer of protection.
Avoid snacks – Keep the bedroom for sleeping and intimacy, which means snacks are out, and the kids jump on a trampoline, not your bed.
Turn the Mattress – When appropriate and in accordance with the manufacturer's instructions, flip or turn the mattress.
Protect when Moving – When moving homes, consider buying a moving mattress protector and ensure you have enough hands on deck to lift, not drag, it in and out of the truck.
Steps for Cleaning your Mattress at Home. 
Retrieve or shop for your cleaning supplies. 

These include:

A vacuum with a small nozzle attachment.
Cleaning solutions – we suggest natural home remedies that can be as effective as shop-bought brands and are less toxic. Items such as:

Baking soda (you may need a lot),
White distilled vinegar,
Clear dish soap,
Hydrogen Peroxide 3%
Unscented laundry detergent.
Salt and lemon

Clean, dry white cloths
Water
Spay bottles.
A toothbrush or soft brush
Sieve or strainer.
Essential oil – such as lavender.

Remove all the bedding and wash it.

Washing bedding should be done every week.
Sheets, Pillows Cases and even pillows or a comforter if they are washable.

Vacuum the top and sides of the mattress thoroughly (and underneath if that hasn't been done in a while). Pay attention to the crevices in the mattress where fluff and food crumbs tend to fall. A crevice tool or upholstery and textile vacuum attachment will work best. Don't forget to vacuum the box spring and bed frame too.
Apply the baking soda and vacuum treatment.
Spot treat – depending on the stains, as mentioned below.
Leave the mattress near natural (although not in direct sunlight) and an open window if possible.
Reapply clean bedding, starting with a mattress topper or protector.
About the types of Mattress Stains.  
Mattresses can be affected by stains, odours or a mixture of both. Deciding on which you are addressing may require different approaches. For example, a fabric stain alone may require another course of action than a stain that also causes an odour. Beyond the immediate remedial action of a spillage, legacy stains take time and patience to remove. Allow for both. This is a job to address when you can give it the attention and persistence it needs.
Stain treatments may vary according to the depth of the stain. The age of the stain will also be a factor, as is the colour. Darker colours may be harder to remove or take longer to combat. And, of course, there is yellowing.
A yellowing mattress doesn't look great, but often it is just the result of oxidation. How to know? If there is no smell, it is old age. Avoid moisture and direct sunlight on the mattress to keep the yellowing caused by oxidation at bay. If there is a smell, read on – it'll likely be caused by sweat or urine.
Urine is an issue that is both difficult to treat naturally and a challenging task to treat professionally. Unless the issue is addressed immediately, which is rarely the case, the urine can seep deep into the mattress, making it almost impossible to clean effectively. If you have a bedwetter in the home, it is best to invest in a quality waterproof mattress protector.
Some Mattress Cleaning Hacks. 
Sweat or Urine Stains – Try making a mattress cleaner spray using hydrogen peroxide, dish soap and baking soda.

Mix up one cup of hydrogen peroxide, three tablespoons of baking soda and a couple of squirts of clear dish soap in a spray bottle.
Spray the stain lightly.
Stubborn stains can be gently rubbed with a soft brush such as a toothbrush.
Leave for a few hours to dry.
Then vacuum thoroughly to remove all the dried mixture.

Odours – Tackle with Baking Soda

Baking Soda seems like one of the best options for odours.
Add 1 cup of baking soda and a few drops of essential oil to a sieve.
Shake the sieve over the mattress. You may need more of the baking soda mixture to cover the whole surface of the mattress.
Let it sit for an hour or so to work its magic, longer if you can.
Vacuum up all traces of the baking soda.

Spot Clean Option 1 – with Baking Soda, Salt, and Water.

Make a paste with these three ingredients and rub it into the stain.
Leave for 45 minutes, then
Wipe with a clean damp cloth

Spot Clean Option 2 – with a Vinegar and Baking Soda Paste.

Use some white vinegar with baking soda to create a paste.
Apply moderately and let it sit for 90 minutes.
You can try rubbing in the paste with a toothbrush.
Then peel off the paste or wipe with a damp cloth
This will help treat stains from blood or urine.

Blood Stains – with Hydrogen Peroxide 3%

Caution must be applied here as hydrogen peroxide may bleach the fabric.
Blood stains should be addressed as soon as practical.
Add Hydrogen peroxide to a spray bottle,
Spray the stain,
Then blot with a clean rag,
Repeat until gone.

Vomit Stains – Clean with White Vinegar and Water Spray.

Use half vinegar and half water in a spray bottle.
Spray moderately.
Blot dry with a clean cloth,
Then leave to fully dry.
This is effective on other stubborn stains too.

Oily Stains – such as body lotion or makeup, can be broken up with dish soap. Remember to dab, not rub, or you will set in the stain.
Out of Vinegar? – Try a mixture of salt and lemon. However, watch that acid. You don't want to rub holes in the fabric.
Garment Steamer – A possible idea.

You could try using a garment steamer on the surface of your mattress but avoid getting drips on the bed; plus, you might want to check what the steamer manufacturer says about that too.

Pet Urine

If the stain is due to pet pee, especially cats, you may prefer to head to the pet store for an enzyme cleaner. However, if the cat detects the urine scent, even if you cannot, it is more likely to urinate there again.

Moldy Mattresses

Believe it or not, some mattresses will suffer from mould, especially if their occupants sweat profusely while sleeping.
However, should you find evidence of mould, we suggest that the mattress be replaced.

Two great videos on Mattress Cleaning Hacks are:

How to Clean Mattress Stains – Say Goodbye to these Common Stains by Mattress Clarity
and How to Clean a Mattress – Easily Remove Urine, Blood, Food Stains etc.! by Sleepopolis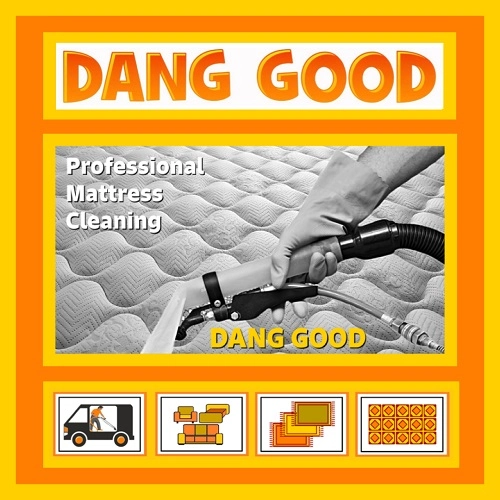 When Professional Cleaning beats Mattress Cleaning Hacks. 
Some mattresses emit volatile organic compounds (VOCs). This affects indoor air quality and can even trigger allergies. VOCs are an excellent reason to have your mattress professionally cleaned.
Any stain that has gone beyond surface level may respond better to Professional Mattress Cleaning using Hot Water Extraction, provided the stain hasn't become too entrenched in the mattress. Likewise, sweat odours, urine or vomit are more likely to be eliminated with the high-powered suction and heat of Professional Steam Cleaning, especially with sanitization products that kill 99% of germs.
We are all about a clean, decluttered bedroom being the perfect place for the sleep you need, so contact us for a Dang Good Mattress Cleaning if you live in Calgary, Airdrie, Chestermere or Okotoks. Also, talk to us about the other ways to enhance your visit, such as cleaning the windows, carpets or upholstery in your bedroom.
Contact us today to learn more.
Feel free to Share our Dang Good Blog Post


#MattressCleaningHacks #CleaningHacks #MattressCleaning #UpholsteryCleaning #UpholsteryCleaningHacks