Carpet Wicking Issues
The Carpet Wicking Dilemma. 
Reappearing Spots and Surprising New Stains. The Dirt on Carpet Wicking. 
"I paid for a deep carpet cleaning, and now I have stains that are worse. Plus, new ones have appeared that were not there before!"
Quality carpet cleaners in Calgary will have heard that complaint on more than one occasion. We speak for many carpet cleaning companies when we ask: "Please don't just put up with it or complain to a friend about what a bad job it was." Instead, contact the service company. Any good cleaning company will address your concern, and a Dang Good Cleaning Company certainly will!
This situation may happen partly because of the deep cleaning, and it is most likely something called carpet wicking. That said, some stains can reoccur gradually over time because of residue left on the carpet. See further down this article for more on Carpet Residue Problems.
What Carpet Wicking is not. 
Let us start by explaining what carpet wicking is not.
It is not usually neglect or technician incompetence – often, the technician has worked hard on your carpets. 
It is not yellowing or cellulosic browning – see below.
It is not residue buildup – see further down for an explanation. 
It is not a stubborn stain that refuses to budge – sometimes, despite the use of specialist products, the expertise and experience of the technician and numerous passes over the same spot, a stain may not come out. Why? Because some carpet stains are permanent and may require carpet dyeing to fix. However, a reputable company will ask you about specific stains during the booking phase, and a technician will address them again during the initial walkthrough of your home.
When does Carpet Wicking occur?
Carpet Wicking occurs while the carpets are drying. Invariably a previous spill on your carpet was allowed to seep into the underlay and dry. Wicking may also happen when the carpet takes too long to dry. Humidity and over wetting the carpet will exacerbate the problem. 
Wicking may occur even though the technician has done a good job cleaning your carpets. It seems a bit contradictory, doesn't it? Yet on completion of the carpet cleaning, the carpets look great, and existing stains seem to have gone. However, as the carpet dries, some stains reappear, or new stains pop up. Some stains may not even show straight away but return once the carpet is fully dry.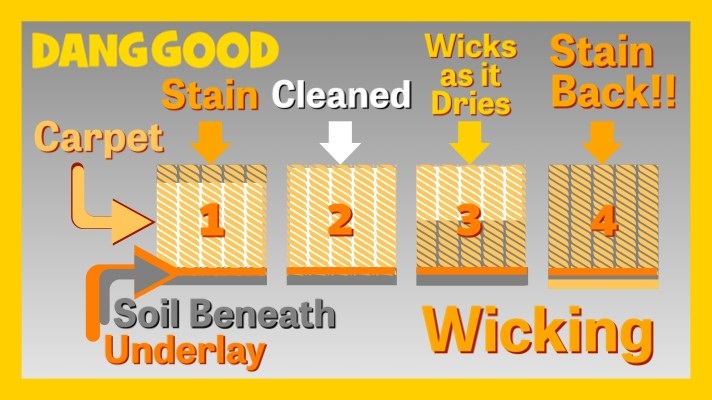 What is Carpet Wicking?
Wicking occurs after the carpet has gotten wet. Then as it starts to dry, moisture rises to the surface and brings with it embedded dirt or old stains and spills that have previously been drenched deep into the underlay and even subflooring.
Often the embedded soiling is not visible on the surface, but the very act of deep steam cleaning reactivates that soiling, and as the carpet dries, it is gradually drawn to the surface. Unfortunately, a seemingly small stain may be so much larger below the surface. 
Another good explanation of wicking can be found in the blog post: "Preventing Reappearing Carpet Stains" by The Spruce. 
If you would like a more visual explanation of carpet wicking, check out the Video: What is Wicking by Rendall's Certified Cleaning Services.
How to Minimize or Prevent Carpet Wicking?
The following steps should be taken to help reduce or eliminate wicking:
The first thing to do is vacuum regularly so that dirt does not become engrained deep into the carpet's fibres. This is especially important in high-traffic areas. After all, wicking cannot happen if nothing is there to wick up.
Second, deal with stains and spills immediately. Blot to remove as much moisture as possible. For more information, please see our blog on Carpet Cleaning Hacks. 
It is vital that the Carpet Technician not get too carried away with their Pre-Spraying. Over-wetting is not a good idea.
Sometimes the technician will need to do extra "'dry-passes.' This is where the wand passes over the carpet without steam applied, just extraction, to lift out as much moisture as possible.
After the cleaning, your carpets need to be allowed to dry as quickly as possible. The quicker they dry, the less likelihood of wicking. If it is a nice sunny day, open the windows. Sometimes extra fans are required.
What to do if Carpet Wicking Occurs? 
A second cleaning may be all that is needed but with sparing use of pre-spray and moisture. Alternatively, the carpet cleaning company may have special products that can address isolated spots. If the history of the carpet suggests a lot of deep-seated stains, a comprehensive pre-vacuuming with a Brush Pro Rotating Brush Machine might help. In addition, extra dry passes and dehumidifying equipment to reduce the drying time would be helpful. 
Prevention is key. Work with a carpet cleaner that has the experience to minimize wicking from the onset through properly balanced PH solutions applied illiberally. They will discuss any anticipated issues (and drying times) with you in advance. 
Wicking may be worse in Rental Homes. 
Wicking can be a visible sign of a bigger problem and could be especially bad in rental homes. For example, do you know the history of the carpet? Perhaps you are about to move in, and the carpets seem reasonably clean, yet you decide on a steam cleaning for sanitary reasons. The technician comes to the condo, works hard, and the carpets look great. But after the cleaning, as the carpet dries, you start to see these weird dark patches. Oh dear, the previous tenants must have had a party or two, and accidents were not mopped up straight away. Worse yet, they had a pet! But let us hope it is not the 'unthinkable!'
Which Cleaning Methods are more prone to Wicking? 
Hot Water Extraction can be more prone to Wicking because moisture is involved. Other methods use less water, but more chemicals can cause a residue build-up. For more information, see the blog on the various Carpet Cleaning Methods.
Are particular carpets more susceptible to Wicking? 
Wicking will be more evident on cream and light-coloured carpets, but certain carpet fibres are more susceptible to stains and subsequently wicking. In stain-resistant carpet, there is less likelihood of wicking. Wool and natural fibres are better at repelling stains. Synthetic fibres are the worst culprits, and while they are often sprayed with stain-resistant chemicals, the spray tends to diminish over time. 
Carpet Cleaners can find Olefin Berber Carpet especially troublesome. However, Cleanfax has some suggestions for overcoming the challenge of cleaning Olefin Berber Carpet.
What is Residue Build-Up?  
Has the carpet been cleaned a lot by various carpet cleaning companies? Carpet Cleaners use a pre-treatment on your carpets to help break down dirt and stains. However, if not appropriately extracted, acidic chemicals can build up on the carpets changing the PH level and making the carpets sort of sticky.
When the cleaning is complete, the stains seem to be gone, but over time as the carpets get walked on, that stickiness attracts dirt from feet and shoes, which gradually shades the area where the stain initially was.
How to solve Residue Problems? 
Residue problems are solved by using experienced carpet cleaners who know which solutions and PH levels work best on your carpet. The cleaner needs to know how to properly neutralize and rinse out the solution no matter the PH level. They will determine the type of residue too. It could be Acidic, Alkaline or Compound, and they may need to remove or neutralize it with a rinse as appropriate. 
What is Yellowing or Cellulosic Browning? 
Wicking is sometimes called carpet yellowing or cellulosic browning. However, wicking is different from yellowing or browning. A cellulosic browning stain tends to occur on older carpets when cellulosic carpet fibres dry slowly or a high alkaline cleaning solution was previously used. Neutral Chemicals need to be applied, or an acidic rinse carried out to bring the carpet back to a neutral PH. Another issue that can cause this stain is when jute backings break down over time or in sunlight. When the carpet is deep cleaned, the pigment from the backing is literally sucked up to the surface. Using Air movers will help. The carpet technician may apply extra drying strokes too. 
Is it worth paying for Carpet Protector?  
Is something like Scotchgard™ a good idea? It may depend on the age and history of the carpet. You have probably heard of the phrase 'closing the barn door after the horse has bolted!' However, a carpet protector can help reduce residue and temporarily prevent spills from going anywhere. In addition, protectors can create an additional, albeit soft and invisible, barrier that helps temporarily repel stains and buildup that can lead to wicking. However, remember that even a protected carpet needs a deep cleaning occasionally, and it will still be necessary to address stains promptly. 
Get Regular Professional Carpet Carpet Cleaning. 
Getting your carpets professionally cleaned on a regular basis will help protect your carpet and minimize any surprises. If you live in Calgary, Airdrie, Chestermere, or Okotoks, check out our Carpet Cleaning Service or give us a Call for a Free No-Obligation Estimate.
Feel free to Share our Dang Good Blog. 


#CarpetWicking #Wicking #CarpetYellowing #CarpetBrowning #CellulosicBrowning #CarpetCleaning #SteamCleaning