National Tartan Day – April 6th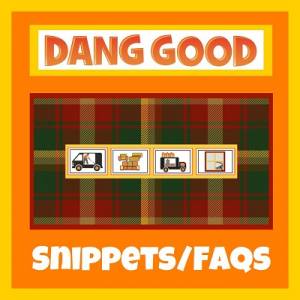 A Celebration of Scottish Heritage.
We couldn't resist giving our logo a makeover just for today: April 6th. It is National Tartan Day.
National Tartan Day is a North American Celebration of the Scottish Declaration of Independence. The day also recognizes the successes and contributions of North Americans from Scottish Lineage.
National Tartan Day in Canada
National Tartan Day was first celebrated in New York in 1982. In 1986, Nova Scotia was the first province in Canada to celebrate it. Not long after, the other provinces adopted the celebration too.
Tartan Day was officially recognized in Canada as a nationwide observance in 2010.
The Scots were amoung the first Europeans to settle in Canada.
The Maple Leaf Tartan
Canada's National Tartan is called The Maple Leaf Tartan.
It was designed by David Weiser in 1964 and was initially created for Canada's centennial in 1967.  However it became the official Canadian National Tartan in 2011. The colours were chosen to depict the changing of the leaves in Autumn from green to red, gold and brown.
Alberta Tartan
Each province has its own tartan. In Alberta, Alison Lamb and Ellen Neilsen from the Edmonton Rehabilitation Society Created the design. It was designed for handicapped persons learning to operate an heirloom. Alberta officially recognized the tartan in 1961.
The current tartan is made up of the colours Green, Gold, Blue, Pink and Black. The tartan is predominantly Green and Gold. Green depicts the province's forests and Gold was chosen to reflect Alberta's grain fields. Colours include blue for skies and lakes, pink for wild rose and black for substances such as coal and petroleum. Later, a dress tartan was also added which included the colour white to represent snow.
National Tartan day is often celebrated with Bagpipe Parades and Highland Dancing.
Upholstery Cleaning Tartan Fabric
Tartan is a popular fabric for Upholstery.
Check out our Upholstery Cleaning Page
#TartanDay #UpholsteryCleaning