A Proud QUADCA Member.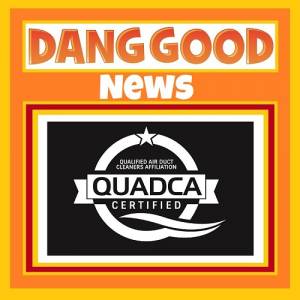 We are delighted to become a QUADCA Member for Furnace and Duct Cleaning
We received our membership on 28th November 2018.
What is QUADCA?
It stands for Qualified Air Duct Cleaners Affiliation. It exists to help educate consumers in making the right decision when hiring a Furnace and Duct Cleaning Company.
They have a number of videos and articles advising customers on the ideal processes and equipment to be used when your Furnace and Ducts are being cleaned.
QUADCA aims to inform prospective customers of best practices; advise on optimum cleaning techniques as well as safeguarding potential clients against being scammed.
Understandably Homeowners get nervous when it comes to bringing hired contractors into their homes especially when it's to access their Heating and Cooling Systems. They want to be confident that they will get a quality clean at a fair price. Additionally, they want to be sure that their HVAC Systems are in safe hands. Efficient winter heating is so important in the Province of Alberta. The last thing any home owner needs is to hire a shady contractor to do a bad job for an exorbitant price.
You can rest assured that Dang Good has superior cleaning practices, great customer service and has extremely affordable prices. Please see our Deals and Contact Pages for pricing information.
Members
QUADCA investigates and assesses their prospective members. They make sure they are licensed and insured. They check they are using the correct equipment, tools and cleaning techniques as well as having above board invoicing methods and fees.
QUADCA suggests customers ask three questions of Non-QUADCA Members. They are:
Do you use a High Powered Air Compressor?
Will you be cleaning the Furnace Blower?
Will you be using the Push-Pull Method if Duct Cleaning?
Of course as a member our answer to all three questions is yes. You can find out more about our method and equipment on our Furnace and Duct Cleaning Page.
You can also find more about all their standards and other FAQs at: http://quadca.com/quadca-standards/
QUADCA also strives to protect the image of the Furnace and Duct Cleaning Industry by helping homeowners find ways to avoid scams, shady duct cleaners and unacceptable billing practices.
As such, we at Dang Good Carpet and Furnace Cleaning are proud to display the QUADCA logo on our site indicating that we are a member. We hope it gives our future clients peace of mind, so they will look to us to BOOK their next Furnace and Duct Cleaning.
Share this article...