Benefits of Duct Cleaning in Calgary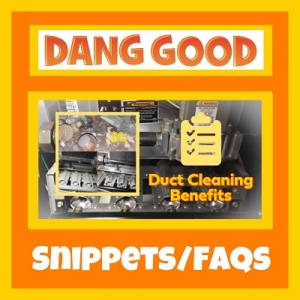 The Benefits of Duct Cleaning can be significant….
The benefits of Duct Cleaning cannot be overstated. Furnaces play an integral role in life in Canada and are critical for keeping our homes at a comfortable temperature over the harsh winter months. While the technology that powers your furnace is relatively simple, it does have to be regularly cleaned to ensure it's operating safely and efficiently.
Here at Dang Good Carpet and Furnace Cleaning, we're proud to provide expert Furnace and Duct Cleaning in Calgary that's specifically designed to help keep your furnace in top notch condition. Read on to learn more about the key benefits of duct cleaning and enlisting the services of professional duct cleaners in Calgary, Airdrie, Chestermere and the surrounding areas.
Four Benefits of Duct Cleaning
The four benefits of Duct Cleaning are outline below
A Healthy Living Environment
The most important advantage of using a furnace duct cleaning service in Calgary is that it can create a healthier living environment for you and your family. Over time, dust, dirt and other irritants can accumulate in the ducts of your furnace, which may circulate around your home as the furnace pushes out hot air. These contaminants can include bacteria, dander, pollen and other potentially harmful toxins, which could pose a health risk if left to go unchecked.
Cheaper Utility Bills
Looking beyond the health aspect, regularly cleaning your furnace can also help you keep the power bill low. How? Well, as dust and grime build up and starts to clog the duct, the furnace is unable to produce a strong airflow, which ultimately impacts its overall efficiency and in turn may increase your energy consumption. Using a furnace duct cleaning service in Airdrie ensures your furnace is operating at maximum efficiency and can help keep your electricity bills low.
Keep Your Furnace Running Safely
While most reputable name brand furnaces will run for years and years without issue, the fact remains that the parts are always subject to wear and tear and will eventually break down. The build up of dirt on electronic switches and other furnace components may accelerate this process, which could lead to expensive repairs further down the track. Removing contaminants from the duct of your furnace helps keep your furnace in good condition and reduces the risk of bigger issues developing.
More Comfortable Temperatures
Finally, using a duct cleaner in Calgary to remove dirt from your furnace's conduits allows your furnace to function more efficiently. This means your furnace is better able to produce the heat needed to keep your home at a comfortable temperature and create a cozy environment over the chilly Canadian winter.
If you require a professional furnace duct cleaning service in Airdrie, Calgary or any of the surrounding areas, we'd love to hear from you. With a strong focus on results and unrivaled customer satisfaction, our expert technicians use a state of the art suction system that has been carefully engineered to remove as much debris as possible from the ducts of your furnace. To book a clean or to learn more about our services, give the friendly team a Call today on 403-984-3680.