Fall Daylight Savings Time Change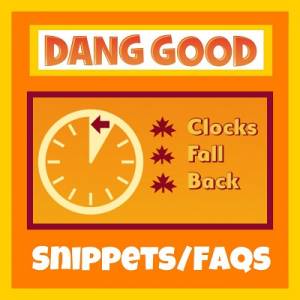 Fall Daylight Savings Time
"Clocks Roll Back in Calgary, AB."
Don't forget to put your clocks back soon. At 2 am on Sunday November 1st 2020, the clocks will be put back one hour. This will affect Alberta. This occurs at the beginning of November each year.
Some History on Fall Daylight Savings Time
Germany was the first country to introduce Daylight Savings Time. Not long after, Canada followed suit. It was initiated to make best use of the time the sun shone rather than have people sleeping during that time.
Benjamin Franklin first entertained the idea in the 1770's, but an English Builder: William Willett, was the first to consider it a viable option when he returned to the idea in 1907. Yet Germany was the first to institute it in 1915.
Each province in Canada has its own set of rules on when or whether to use Daylight Savings Time. Currently Alberta uses it and has since 1918. For a while it looked like the Alberta Government might do away with the twice yearly time change by at the end of October 2017, they scrapped the Bill suggesting the Removal of Daylight Saving Time.
Nevertheless the debate on the advantages and disadvantages of time change continues. For now however, the status quo remains.
So remember to put those clocks back on Sunday November 1st 2020. For details of 2020 and beyond please see visit TimeandDate.com
One Advantage of Fall Daylight Savings Time
The Fall Daylight Savings Time for many, acts as a reminder that winter will soon be upon us. Its a good time to check light bulb replacement and batteries in the Fire Alarms and Carbon Monoxide Detectors. Did you remember to turn off those outside taps too?
Also, Christmas is not that far away. When preparing for the holiday festivities don't forget to give your carpets some consideration. We have some great Carpet Cleaning Deals if you would like your guests to see clean carpets. Or why not consider giving friend and family a gift of one of our services?
Don't leave it too late. Give us a call 403-984-3680 and Book your Carpet Cleaning Now!!
#daylightsavingstime #falldaylightsavingstime #clocksfallback