Cleaning Hacks for National Puppy Day
A Celebration of National Puppy Day with some Cleaning Tips. 
"Being this cute must be so freaking ruff." – Unknown. 
What is National Puppy Day? 
National Puppy Day is set aside every year on March 23rd to celebrate the unreserved love, attention and affection that puppies (and dogs in general) contribute to our well-being. It also helps to make us cognizant of homeless, abandoned and cruelly treated puppies. Yes, it is hard to imagine that anyone would abandon or ill-treat puppies. But, for most of us, their very nature makes us melt with adoration, and for just a little while, we can forget about the troubles in our world.
The History of National Puppy Day. 
National Puppy Day was created in 2006 by Colleen Paige, a leading Pet and Family Lifestyle Expert and an animal behaviourist, writer, author and photographer. National Puppy Day is one of several pet holidays created to help save the lives of unwanted dogs. Colleen Paige also wrote: "The Good Behaviour Book for Dogs." She encourages you to have fun while training your dog; try to look at things from a dog's perspective and understand that while dogs listen, we need to learn dog-speak. 
The Importance of National Puppy Day. 
One key focal point of National Puppy Day is to support Puppy Adoption instead of purchasing a puppy. Why? Because there are so many waiting alone for homes in shelters.
The City of Calgary has some pertinent information on adopting a dog.
National Puppy Day also gives attention to the aversion to puppy mills. According to the Friends of Humane Society International, there are over 1000 puppy mills operating in Canada and over 1500 dogs have been rescued from puppy mills.
How to Celebrate National Puppy Day? 
On a lighter note, below are some ways to celebrate National Puppy Day.
Adopt a Puppy – If you have given it serious consideration, why not adopt? The Alberta Animal Rescue Crew Society (AARCS) has an ongoing list of adoptable dogs.
Post a Picture of Your Puppy on Social Media – Whether you own a puppy or not, many of us have pictures of puppies that we can post to social media. The above image was one we took of a customer's puppy when we did some upholstery cleaning and carpet cleaning for them.
Use the hashtag: #nationalpuppyday to bring awareness to this special dog day.
Give your Puppy some TLC – Of course, if you have a dog, today would be a good day to give your loved one some extra special attention, whether it is with a walk or a treat or time playing in the park.
Treat your puppy to a Doggy Daycare – If you are busy, give your dog the attention it needs or deserves by sending it to a Doggy Daycare. One of our favourite daycares is Airdrie Puppy Pals.
Volunteer at a Shelter – Have you thought about volunteering at a shelter? Or perhaps visit one, but check if appointments are required first. 
Consider donating to a humane society – Lastly, if you neither have a dog nor the time, consider donating to a dog welfare organization.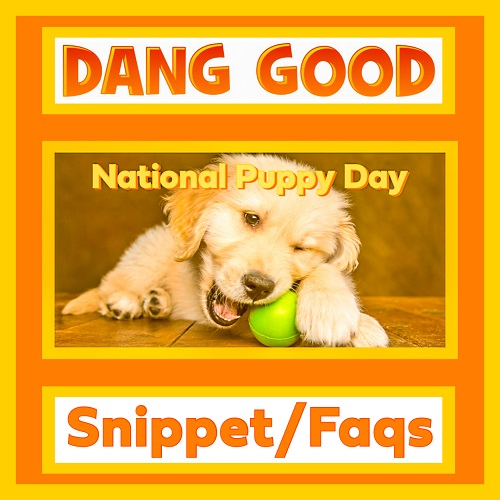 Caring for Your New Puppy. 
Dang Good Carpet and Furnace Cleaning does not profess to be any kind of expert when it comes to caring for a new puppy. However, we can point you to some useful links.
In Calgary, the Responsible Pet Ownership Bylaw covers five aspects of pet ownership. They are:
Licensing and Identification
Spaying and Neutering,
Training, Care and Socialization
Avoidance of threats or nuisances in the community
Obtaining your pet from a reputable and ethical source.
VCA Hospitals give helpful information on Veterinary Care and guidelines on General Care.
Consider the commitment needed for a Puppy. 
We would also suggest that you consider the following before committing to a new puppy:
Puppies grow into dogs. Some of the cuteness can wear off.
Dogs can be hard work.
Is everyone in the household committed to your fur-ever friend?
Yes, we say fur-ever. It is a (dog-life) commitment. Dogs can live up to at least 13 years.
Do your lifestyles suit owning a dog?
Are household members old enough to know how to treat a puppy?
Are you prepared to exercise and play with your dog every day?
And there will inevitably be more cleaning – but see below for helpful tips. 
Can you afford it? Food and Vet Bills can get expensive.
Have you given thought to how you are going to train your puppy?
Other Pet Days. 
Colleen Paige is the founder of several pet days, which include: 
The Downside to Owning a Puppy. 
Puppies are so cute and lovable, yet they do not come without a few hazards to our carpets and upholstery on occasion. If you live in or around Calgary, Alberta, please keep Dang Good Carpet Cleaning in mind when you are potty-training your new puppy. They can take several months to be house-trained. That can take a toll on your carpets and furniture. We can black-light your carpet to show you just where your fur ball has left its mark, and we can also use products to sanitize and deodorize the carpet.
Facts about Puppies. 
Puppies are born blind, and deaf and have no teeth until about four weeks.
At six months, they have Adult Teeth.
Puppies sleep a lot. Up to 20 hours a day!
Puppies are considered to be adults on their 1st Birthday.
Puppies start to become vocal around the 3rd week but do not develop a full bark until the 16th week.
For more Puppy Facts, check out the Farmers' Almanac on National Puppy Day and the 9 A Quiz about Puppies by CBC Kids.
Cleaning Hacks for National Puppy Day. 
Removing Pet Hair – You will need to manage your puppy's pet hair. It is likely to be an ongoing endeavour. Four tips to help with hair removal are:

Dampen Ruber Gloves and rub over Carpet, Area Rugs and Upholstery after vacuuming. It will pick up what your vacuum missed.
Talking of vacuuming – consider actually vacuuming your pet – gently, of course, but it's a great way to remove loose hair and surprisingly they usually like it. 
Other items that work are Duct Tape and Dryer Sheets. 
Brush your Dog Frequently. It also helps keep their coat in good condition and helps reduce shedding. 

Keep your Deck and Yard Sanitized – so you don't accidentally walk in unsavoury messes.
Replace your Furnace Filter – Changing your Furnace Filter more frequently may help with pet dander and dust. 
Invest in an Air Filter – Portable Air Filters can help with Indoor Air Quality – IAQ can become more of an issue with a dog.
Wash Pet Toys – Most Pet Toys can be put in the dishwasher and it is a great way to sterilize them. 
Check and Clean Dog Collars – Check for snags and regularly clean them. 
Aluminum on the Couch – You can discourage your pets from sitting on couches by placing aluminum foil on them.
Wash Pet Bedding – Make sure your pets have their own (washable) bedding that will also need to be cleaned regularly too. 
Clean Nose Smudges from Windows – Remove those Puppy Nose smears from your windows with a damp microfibre cloth, or if your windows are too far gone, call in a Professional Window Cleaner.
Keep your Vacuum Clean – You may need to vacuum more often. But don't let your vacuum get clogged up or smelly. 
Use a Plastic Place Mat under the Food Bowls – Placemats or some plastic trays will help keep dog food contained in one place. 
Clean up messes right away – Baking Soda can act as an interim measure to soak up those carpet or upholstery mishaps. 
Have an emergency Clean-Up Kit – Have some supplies on hand for that quick clean-up. 
Deodorize the Home – Dog smells will occasionally be inevitable. Check out our Kitchen Freshener Hacks.
You may also like these other National Days. 
Why Dang Good Loves Puppies. 
Inevitably Puppies cause messes. A bit of accidental poop or pee can turn into your pet's favourite place to do their business and that can take a toll on carpets and furniture. If you live in or around Calgary Alberta, consider bringing in the professionals for one of our Dang Good Cleaning Services.
Feel free to Share our Dang Good Blog Post


#nationalpuppyday #puppyday #cleaning #cleaninghacks