National Puppy Day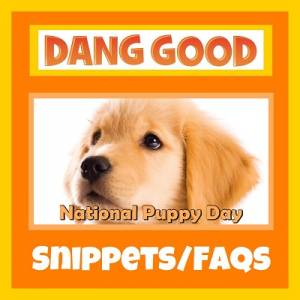 National Puppy Day.
National Puppy Day is celebrated on March 23rd. It was created in 2006 by Colleen Paige and is celebrated every year in support of Puppy Adoption. It also gives attention to the aversion of puppy mills as well as simply setting aside a day to honour our loyal, little friends.
Puppies are so cute and lovable yet they don't come without a few hazards to our carpets on occasion.
Please keep Dang Good Carpet and Furnace Cleaning in mind when you are potty training your new pup. Puppies can take several months to be house trained. That can really take a toll on your carpets. We can black-light your carpet to show you just where your fur ball has left their mark and we can use products to sanitize and deodorize the carpet too.